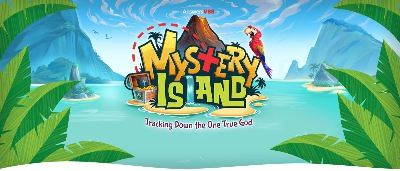 2020 Community Vacation Bible School has beenm postponed to the summer of 2021.

Trinity UCC looks forward to hosting this event using the curriculum below.



Mystery Island
Theme:
Track Down the One True God

Through God's Word, children will discover important attributes of God, and leave with the treasure of understanding God. Each day begins with the "Islander Assembly" that'll get your detectives worshiping, praying and ready to hunt down the attribute of God that day.




In 2011 Trinity UCC started a scholarship fund for camp participants. Our scholarship fund is an important ministry to our Young Disciples as it helps them learn, build friendships, experience the presence of the Holy Spirit, and become responsible stewards of God's creation. We are grateful to all of the Camp Mo-Val staff, who help our Young Disciples do just that! Tax-deductible contributions to the scholarship fund are received on an ongoing basis. You may make checks payable to "Trinity UCC" and write "Camp Scholarship Fund" in the "Memo" section of your check. Please send checks to: Trinity UCC c/o Pastor Liz Deveney, 1312 Franklin Avenue, Lexington MO 64067. We thank you for your support!


Children's Sunday School takes place year-round in the Education Building at 9:00 a.m. Our approach is Bible-centered and encourages kids to open the Scriptures and explore God's Word through a variety of age-appropriate activities designed to accommodate all of the different ways children learn. Contemporary songs, with participation from our young disciples, are an integral part of worship. Trinity UCC also offers a "Time For All God's Children" segment of worship.


Our pastor, Rev. Liz Deveney, teaches a 2-year Confirmation Class for youth who wish to be confirmed in the United Church of Christ. Additional service projects and field trips will also take place throughout each year: Dates and times TBA. Rev. Liz is using My Confirmation: A Guide for Confirmation Instruction (Pilgrim Press.)


The Adult Learner's Class taught by Susie Struchtemeyer meets at 9:00 a.m. every Sunday in the Educational Building.


Explore your faith journey, learn more about Trinity and the United Church of Christ, have lively conversation and coffee with friendly people.



Come learn and grow with us!